Let's talk about sushi in Malaysia. (Or at least in Kuala Lumpur.)
First you're going to love it if you are a sushi enthusiast. And if you are a daring sushi enthusiast you're going to be in heaven. Japanese culture has infiltrated Malaysia in a very positive way here, especially when it comes to food opportunities. You get a closer experience to actual Japanese cuisine in KL compared to say New York or San Francisco or Vancouver or Toronto.
Japanese cuisine, and more specifically sushi, has been Westernized for the less adventurous palate in the U.S. and Canada. There is avocado on or in everything, which is not necessarily a bad thing. But sushi has also been injected with cream cheese in Florida which is horrendous. This of course keeps it cheap for the all you can eat places.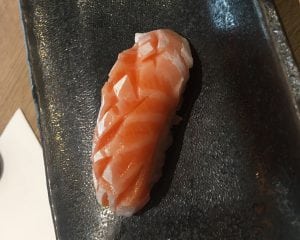 Not so at sushi joints in KL. Now to be fair, I have eaten at a dozen or so places so far in KL, all mostly around the near-suburb of Bangsar and at least five in the Midvalley Megamall. Of note note, my favorites are Jiro Sushi, Sushi King (a chain), and a higher end place called Kiku Zakura, which has wickedly good quality fish, especially when it comes to the the buttery salmon nigiri. (Their maki rocks too.)
I am also partial to RakuZen in Bangsar Village, which is also a chain. Their food is good (though their service is not), still it is local to me and once get used to the diffident servers, you adapt.
Jiro Sushi – Best Cheap Sushi in KL
That said, my favorite cheap sushi in KL is Jiro Sushi, on the 2nd floor at the south end of the mall called Jiro Sushi. It's set in an island in the middle of the mall. The kitchen is open at one end. And the single seats are set against a counter on one side and booths on the other. The centerpiece is a conveyor which trucks small plates of mostly sushi (nigiri – fish on rice) around and around across the length of the restaurant and back on a loop. They are priced at MYR2.99 (US$0.72 / CAD$0.93 / £0.55 / EUR$0.62) a plate if you consume a minimum of 5 plates.
Now if you don't see anything you like on the conveyor then don't fret. When you are seated you get QR code on a sheet of paper. You point your phone's camera at the code and a link pops open in your browser with access to the entire menu. Scroll and order with your phone and the chefs send a robotic electric shuttle down the center of the conveyor on a metal track that stops automatically at your seat. You can then grab what you ordered. And the shuttle retreats.